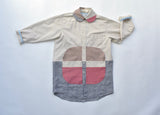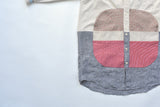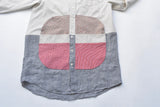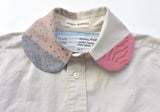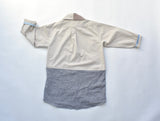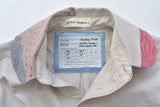 
Gallery Frock
$0.00 USD
We teamed up with April Rose of Secret Admirer to create a few special pieces this season. April sourced second hand shirts for us in her current home of Albuquerque, NM. She then paired shirts up together to create 16 color-blocked tops for us out of the shirts that she had sourced. We added pockets & collars, of course. 
Gallery Frocks pair our Gallery Tunic pocket design with a longer Frock-length hem. There are four pockets in total- two top horizontal pockets for your hands, and two lower pockets to keep your things. 
This Gallery Frock is crafted in sand cotton & linen in a tiny houndstooth print. The contrast fabrics are cotton & hemp. 
This Top features: 
Pieced peter pan collar
4 large, lined pockets

Our original screen print: Hand Drawn Fête Dots & Tree Rings in water-based ink
Hand dyed indigo hem tape at sleeves

Our original hand printed tag
Gallery Frocks can be worn open or closed. If you would like the option to wear yours buttoned, we recommend ordering a top that has chest, waist, and hip measurements at least 2" above your own body measurements. The full measurements of this top can be seen in the final photo. 

Because all materials have been pre-washed, you don't need to worry about your Flux Bene shrinking or stretching. All are machine washable and can be tumble dried. 
All Flux Bene pieces are One-of-a-kind, Zero-waste, and Gender neutral.